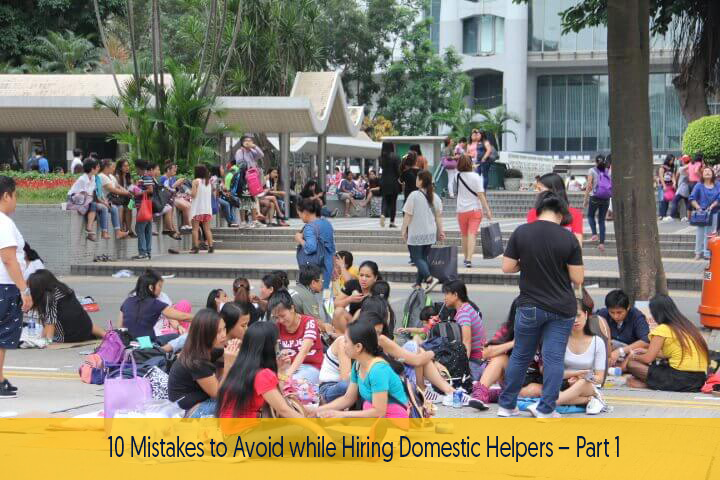 10 Mistakes to Avoid while Hiring Domestic Helpers – Part 1
Hiring domestic helpers in Hong Kong is not at all easy – in reality, it's quite difficult. It is tough to hire locals and a bad hire can easily cost you a whopping amount too. The potential damage involved goes beyond money since it also directly affects your household in more ways than one.
One should save on the significant loss of time and money, by knowing where one makes mistakes usually in hiring a helper in Hong Kong. By avoiding the following mistakes, one can make sure that the domestic helper they have hired, is both efficient and effective for your needs.
1. Inadequate Reference Checks
It is important to speak candidly about a domestic helper's references and their previous job experiences. Most people fail to go through the background screening process owing to their own hesitance. Some people then have to regret their choices, but by then, it is often too late.
Before hiring a maid in Hong Kong, one should ask if they carry any nursing certifications and work references from previous employers. A person should opt for insurance too so that one can meet the demands of unforeseen circumstances.
The candidate in question should have never been caught for fraud and even convicted of anything. Do rely on genuine references for arriving to a decision.
2. Faulty Background Screening
When hiring a domestic helper, a family also has to screen them judiciously. A thorough interview, along with background reference check is important along with a criminal background assessment. All references should be reviewed and checked out based on the answers that you receive during the interview. Do verify the dates of employment, their tasks, and the real reason for their separation from the earlier families. Any open-ended question related to the maid's responsibilities, is applicable to the former employers and get a gist of the helper's strengths and weaknesses.
3. Compensation Out of Step with the Local Job Market
Hiring a domestic helper in Hong Kong is expensive. And with foreign domestic helpers, the price is considerably high. Check out the market compensation and keep them at the median rates so that the expectation is managed in the right sense. People fail to compensate domestic helpers fairly, which leads to fraudulence and cheating on tasks.
If you pay over the budget, you may spoil the helper for their market itself, with unmanaged expectations. One has to pay for the daily routine tasks, including feeding the child, taking and getting back children from school, cooking food, cleaning the home etc. Maids usually live with their employers, hence their housing and food needs are met with ease. If you offer lower compensation, it would be harder for you to find a good replacement or even for retaining any of them. The work shirking will be more than you would like, especially with better-paying opportunities in the market.
4. Unrealistic Expectations for Housekeeping
A domestic helper's primary duties should always be household work and home care. One cannot expect them to perform child care along with other household chores because children themselves need complete attention. Some helpers don't mind if they are paid well in terms of household upkeep tasks and also child-care. Sweeping, cooking, washing & ironing clothes, wiping cabinets etc. are part of the duties but one cannot just keep assigning new chores including picking up other adults or shopping for groceries as part of the tasklist. One needs to prioritize on the duties to be assigned to domestic helpers and maids and then proceed to hire them.
Any downtime in one duty can lead to the next assignment. It should be realistic based on the time involved in completing the same. Every household helper typically works in an isolated manner and may need a cup of tea, or a call for their own break, before resuming responsibilities. Manage your expectations before you run out of maids and domestic helpers to take care of your house.
5. Poor Communication about Wages
You might think that it is okay to mention the salary once to your newly appointed helpers. But it is here you are wrong. Not all helpers understand their salary with respect per day wage or hourly rates. Refrain from using corporate lingo while communicating the basic salary that you are offering them. One should do some research on the costs involved in hiring domestic helpers in Hong Kong and then chat with real people who have hired someone and have been conversant with costs. Be reasonable in setting the salary bar for the helpers.
It is important that you convey the salary offer clearly, with respect to take home pay. Communicate the compensation not in terms of added benefits, but with monthly salary component and rates as part of overtime compensation. Give a particular example of the sample paycheck.
We will talk about 5 other mistakes that families commit while hiring domestic helpers in the next part of the article.