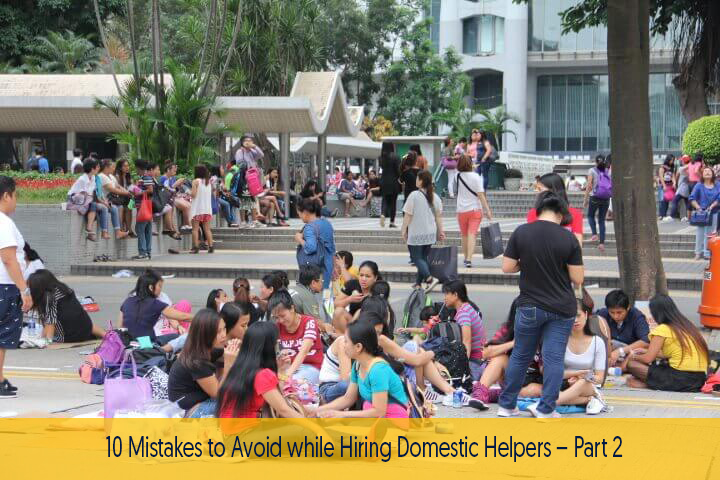 10 Mistakes to Avoid while Hiring Domestic Helpers – Part 2
In the last part of the article, we discussed the top five mistakes that most families do while hiring domestic helpers in Hong Kong. These families fail to screen the maids or even do a thorough background reference checks for them. They are sometimes unrealistic as to the nature of tasks assigned to them along with their regular work and even pay lower than market standards. These mistakes cause much trouble sooner rather than later.
You will find below some more mistakes to be avoided while you are hiring domestic helpers in Hong Kong:
6. Disagreement on Working Style
The family might be very permissive for their child, but may be the maid or nanny believes in setting the boundaries and being strict. The maid might work on clothes first and hang them out to dry before getting to cleaning the cabinets, maybe the family wants the cleaning done before. Talk this out with the maid or nanny and even give them privileges what they would need.
Maybe, the family does not want to assign privileges such as web surfing at home but the helper might insist on some browsing during down time. I know it is not a regular thing with maids, but this situation actually turned out uglier than imagined in a household near Victoria Harbour. Hence it is important to talk about such situations up front. With respect to nannies, inconsistency in setting up disciplinary grounds and contrasting philosophies for taking care of children will not be good for the family in any way. Clarify your stand and then conclude with the hiring process.
7. Failure to Provide Training and Know-How about the Home
The new domestic helper that you hired will not know the home layout or the habits of each member of your family just like that all of a sudden. They need some orientation and training to know exactly how your family spends their routine, every day. Give them adequate time to adjust, at least some days, to make sense of the routine. Families need to give some time for the helper for preparation and orientation with new maids so that both the family members and the helper adjust with each other.
8. Micromanagement
The controlling households have a tendency to micro-manage even the lightest of tasks assigned to domestic helpers. These problems occur commonly with most families with new babies, and even those who are hiring their first domestic helper. Families need to articulate their expectations but should not go overboard into micromanagement and expect the new helper or nanny perform multiple duties at a time with complete efficiency. Some families are ridiculously finicky about the timings of their lunch and dinner, along with the time required for shopping or cleaning of utensils. There should be some latitude and flexibility for the same or else, chances are that the hired helper will soon leave the house for good.
9. Failure to Pay for Paid Holidays and Vacation Period
A full-time domestic helper is expected to receive reasonable wages along with a weekly off for all the weeks of the year. Additionally, they can expect leave to be granted in case of health emergencies and during the main festivals of the year. Hiring domestic helpers in Hong Kong is tricky because sometimes people fail to respect the helpers and their choices. They refrain from paying for holidays and even do not grant sick leaves. Helpers are entitled to 7 paid holidays every year. Considerate families pay advance to their maids in case of emergencies and hence manage to retain them in the case of their own issues. Additionally, families going out for vacation should relieve the domestic helpers with some paid leaves for the same duration or assign basic chore on a routine basis. But that depends on family preferences and mutual understanding too.
10. Selecting The First Domestic Helper Hiring Company
Many families have a tendency to hire a helper or the first domestic helper hiring company that they can find. It is tough to assess and screen a person and their abilities with a phone call or with just one meeting. One should call several different companies and find out more about their hiring process and sourcing ideas too. One should also know the breakup of costs involved and the reviews of a domestic helper, one can find in one's budget. Also, one or two meets with the helpers hired by the families would give you a fair idea about the best fit for your home.
By avoiding these mistakes and doing the right thing at the right time, one could actually get an efficient domestic helper in Hong Kong, without having to shell exorbitant money and even retain them for your family needs.