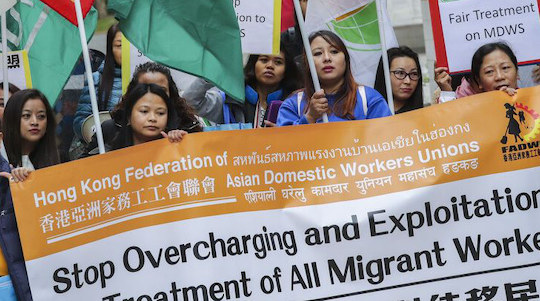 Protect a helper when employment agency is overcharging?
Domestic workers are increasing in number by the day. They make up quite a good percentage of the workforce in Hong Kong. These foreign domestic helpers are mostly coming from Philippines and Indonesia. They, however are required to pay a fixed fee to their employment agencies who help them get an employer. However, as per the recent surveys, it is observed that certain agencies are overcharging exorbitantly; in other words, they are taking bribes from the helpless foreign domestic workers who land up in Hong Kong with the objective of helping their families far away. This is not acceptable and to be taken seriously.
The Government has intervened and taken measures to stop this inhumane and illegal act, which is greatly heartening.
What is the actual fee?
Employment agencies in Hong Kong can only charge 10% of the first month salary of the domestic helpers. This can be collected only after they get their salary from their employer.
Hong Kong bound domestic helpers in Philippines are not required to pay placement fee but need to shell out for their training, paperwork and medical tests. Some unethical employment agencies have been misusing this law and overcharging unlawful fee for training and other unnecessary, unexplained purposes.
Hong Kong bound domestic helpers in Indonesia can be charged IDR15,550,000 (HK$8,600), which is quite a big amount.
If you are a domestic helper looking to get placed, please be aware of these facts. Do not pay more than what you actually need to. Refuse to pay straightaway and seek legal or professional help if any agency tries to play tricks with you or your passport.
One more thing.
When you are paying your agency fee, make it a point to ask for the receipt. This is written proof for what they have charged; clearly check the details of the receipt and ensure you have paid the same amount and for the purpose specified because there have been instances where agencies have tried to escape from the legal clutches after charging unlawful fees.
What steps can you take when your agency is overcharging?
Do not hesitate even for a moment. Call the labour department instantly and report the matter. If you are already placed, bring this to the notice of your employer who may be more than willing to help you but if you are still not comfortable talking to your new employer, try getting in touch with your previous employer for the same. Please note that you can obtain a refund from an overcharging agency, just visit and ask agency complaint form to the Philippines Overseas Labour Office (POLO).
What can I do to avoid paying bribe?
Be sure that your employment agency is an ethical agency. Do not hesitate to call POLO Hong Kong, check agency reviews or ask to your friends for good agency referal.
At HelperPlace, we are of the opinion that domestic workers should not pay to find an employer. We are here with the intention of making it easier for you and the employers out there. Direct hire without any agency is possible in Hong Kong. Just create your profile on our website for free and reach out to the employers who are seeking good domestic helpers for their families. Our goal is to improve and augment this space where both helpers and employers could connect easily. This avoids the helpers falling victims to the cunning games played by some employment agencies.
Are you an employer or looking to hire a helper shortly?
As a responsible and compassionate employer, it is your duty to ensure your helper doesn't pay more than 10% of her first month salary to her agency. Some very ethical agencies and online platform are offering zero placement fees for foreign domestic helpers. If you hire a helper through an agency, make sure your employee is not overcharged; but if you realize that she has paid more out of innocence or fear, talk to the employment agency about the same and help her out. If things do not work, seek help from the Police.
Prevent your helper from taking loans
There are several cases where domestic workers have taken loans to pay their employment agencies. Talk to the helper you are considering to hire for your family and make sure that she has no loans outstanding. Loan sharks harass the borrowers due to which she may not be able to work with efficiency. Educate her about the laws relating to the agency fee and convince her to not take any loans to pay for the same.
Random inspections from the Labour department
Of late, since the labour department has been receiving increased complaints of overcharging by the employment agencies, it has swung into action and started conducting random checks. However, there are still issues that need to be addressed; the Government has instructed the department to rigorously conduct checks and identify unethical agencies.
The concerned authorities are striving to help the domestic workers from corrupt agencies. It is however recommended that both helpers and employers learn about the legal placement fee and take measures when agencies try to overcharge.