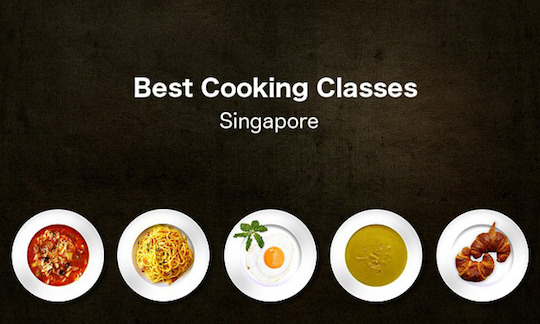 Singapore Cooking Classes for your Helper
Is your domestic help an amazing house cleaner who makes your beds just right but cannot quite cook you up some delicious warm soup for supper? Don't worry. Singapore hosts some of the best cooking trainers for domestic helps who will get your help preparing multi cuisine delicacies right away! The following is a list of the best Singapore cooking classes for your helper – reach out to them right away.
1. Foreign Domestic Worker Association for Skills Training (FAST)
FAST is a society built on charitable support that provides training for skill development in helpers as well as social support to domestic workers in Singapore. This 11 year old establishment has partnered with Culinary Art Studio- CAS since 2013 which functions with a goal to set up a learning society for cooking enthusiasts. Major establishments that have recognised the need for such a service, extend their support to CAS successfully making it the best equipped and facilitated culinary studio in the country.
Experienced chefs conduct workshops and provide beginners with valuable insights on several important aspects of cooking including baking. Finer aspects are introduced to the learners making this a totally beneficial experience for you and your domestic help who definitely will have increased expertise in handling the kitchen and whipping up perfect meals on the word go. The cooking training is conducted in groups where every individual is challenged to push themselves. To learn more visit FAST website.
Location: 735 North Bridge Road #01-01 Singapore 198703
2. Palate Sensations
Delicious tarts, various international cuisines, handling kitchen dilemmas are all aspects your domestic helps are trained to gain expertise in with the very helpful cooking training classes dedicated to bringing out the chef in all their students. Practical cooking tips and hands on skills are finessed in such a way that your domestic helper is soon capable of handling every kitchen dilemma by themselves and preparing you quick and delicious meals. Visit Palate Sensations.
Location: Chromos #01-03, 10 Biopolis Road, Singapore 138670
3. ACMI – 
Archdiocesan Commission for the Pastoral Care of Migrants & Itinerant People
Established and running successfully since 1998, the ACMI extends its services with an aim to provide help and support to foreign workers in a charitable manner in Singapore. These include skill development courses offered to the domestic workers that will better their chances at employment and substantiate their living in the country. They have numerous options for cooking training for helpers at affordable prices they accept as contributions.
The following are some of the aspects of cooking they cover as part of their domestic help training programs-
Classes on baking cakes and biscuits – If you have kids in your house or plan parties quite often, this is one skill your domestic help should definitely be acquiring. Weekly classes on creating beautiful pastries are also available to help them boost their baking skills and reduce their sense of intimidation of having to create the most popular dessert right from the start.
Cooking Asian Cuisines – Well there is nothing we crave more than homely meals. These classes aim to familiarise your domestic helps with the basic principles on Asian cooking and gradually turn them into experts of the same who master the art of blending flavours and traditions.
International Cuisines – Western style cooking techniques are taught to the helps who can surprise your families with the occasional burgers that melt in your mouth.
Visit ACMI website.
4. The Pantry- Singapore Cooking Classes
Set up with a focused goal to provide vocational training skills for those who suffer from disabilities in an effort to include them as a part of the regular work society. From regular cooking courses to finer aspects of preparing international cuisines, this cooking training centre in Singapore can help your domestic helps achieve basic and intermediate cooking skills that shall enable them to prepare your daily meals in a healthy and tasty manner. They cover most areas of cooking including primary baking, preparation of homely Asian meals among others. Visit The Pantry.
Location: 75 Loewen Road, Singapore, 248844
5. Bayanihan Center
A Philippine innovation inspiring to improve the relationship between and blend the two societies together, this organisation helps develop cooking and baking skills in your domestic help such that they are equipped to handle your kitchen and provide your family with delicious and healthy cuisines on a daily basis. As a part of their cooking training program in association with FOWS (Filipino Overseas Workers in Singapore), they cover the following aspects of cooking:
Regular hands on classes for international cuisines that enable your help to master the art of modern and traditional western cooking.
Basic as well as advanced cake baking and decorations.
Visit Bayanihan center.
6. Expat Kitchen Cooking School
They welcome everyone interested in learning and advancing their cooking skills. Your domestic help could start learning right from basic cooking that improves their basic kitchen skills, helps them prepare common western breakfast foods along with sides, preparation of one pot dishes and basic desserts. They also have courses for Baking, Intermediate Cooking, Private Cooking and Master Classes. From helping you host a successful dinner party to cooking up some delicious breakfast as comfort food the next day; their courses leave your help with useful skills that last them a lifetime. Visit Expat Kitchen Cooking School.
7. Grandmothers' Recipes Kitchen
Right from whipping up authentic Singaporean homely meals to handling novelty dishes and desserts that shall spread delight during your Chinese New Year parties, your help is going to learn a lot from the classes held by this organisation. They focus on teaching your help to prepare one dish meals for weekday dinners, salads, snacks, soups and seafood. Your domestic help is going to learn the arts of making the best home cooked meals that keep your family comfortable from the best. Visit Grandmothers' Recipes Kitchen.
8. Little Green Kitchen
With hands on cooking sessions that help them prepare quick 30 minute meals super efficiently that are both delicious and healthy, your domestic helps are going to make your lives so much easier than they already do.
They also let your helps explore their skills through classes in authentic Arabic Cuisines- rich, spicy and flavoured to make all your evenings delightful. Apart from these, salads, brunches that make your Sunday all the more cozy; the occasional supremely healthy vegetarian meals and mouth-watering festive meals are all things your helps master. Visiti Little Green Kitchen.
Location: 1 Hacienda Grove, #03-05, Upper East Coast Road.
HelperPlace believes in bringing you a wholesome experience that does not just involve connecting you with more than just your next employee or employer. As an employer who has just hired a domestic help, we understand that your life in Singapore is indeed busy and you could do with all the support that you get from your full time helper. There are so many things you take into consideration when you hire your domestic help, safety and reliability topping the list. Their behaviour, house management skills, overall personal hygiene and a realistic concern about the state of the house are all characteristics that are too rare to find in every domestic help- but if you have employed one, it definitely means that they have managed to win your hearts. We hope that the list of the best Singapore cooking classes will be helpful for your family. At HelperPlace, we are proud to freely connect you with the best domestic helpers in Singapore.