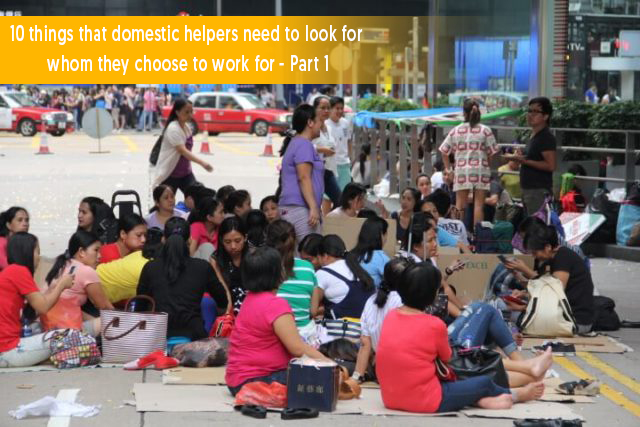 10 things that domestic helpers need to look for whom they choose to work for – Part 1
According to the Hong Kong government figures, 8% of the 7 million population in Hong Kong, are foreigners. Indonesians, Filipinos, and Thai foreigners are the topmost residents.
There are some things that domestic helpers, especially foreign helpers need to know before choosing their employer. They need to know about living in Hong Kong and their rights too. Here are some things that domestic helpers need to know about their employer before taking up the job.
1. Opt for families known to provide respectful treatment
It is a common practice for many families to look down upon domestic helpers and get work done without giving out respect. Domestic helpers need to realize that they need to be professional in their approach before committing to any household task. Work with families who can respect you for who you are and do not treat you as a slave. The tendency to treat maids as slaves has been quite prevalent in modern times. So it is essential to have a professional attitude to the tasks. A particular structure of a family consists of father, mother, a child and even a grandparent in some cases. Since the parents work full-time, as a domestic helper, you need to take responsibility of all chores of taking care of children and the elderly.
There is nothing wrong about helpers demanding respect from family members. But they should know their role in the family. It is essential that helpers have a harmonious relationship with the family since that will have a positive impact on children who will learn virtues of respect, gratitude, and politeness too. Hence it is important that parents do not scold the maids and helpers in front of children, and be appreciative and encouraging to get the tasks done.
2. Opt for good remuneration, food and accommodation
Domestic helpers and foreign helpers in Hong Kong need to ask for fair remuneration that they should receive for their services. For instance, the minimum pay of 4,520 Hong Kong dollars, equivalent to $500 on a monthly basis, usually reserved for household tasks throughout the day, including cleaning, washing clothes and utensils and the like. The average salary is pegged around HK$4500-5500. Competent and experienced helpers can charge up to HK$7,000 while someone possessing a driving license, can demand a salary of up to HK$12,000. For maids who take care of children too on top of their primary responsibilities, can charge extra for the same, on a mutual agreement with the employer.
Other than the monthly salary, the domestic helpers need to be given adequate food and accommodation. They also need to be given monthly paid leaves based on mutual talks during the interview. Helpers need to be proactive in getting things cleared at the outset itself.
3. Furnish your skills based on requirements of the employer
Most foreign helpers are not aware of the fact in which they can express their requirements and keep accepting responsibilities at meager pay. Also, they are usually tongue-tied in expressing their capabilities. Hence it is essential as a domestic helper to showcase their skills and capabilities through adequate qualifications and references. Once the interview happens, domestic helpers need to carry their experience certificates that are relevant to the job. For example, those who are qualified with a nursing background can land a job of a caretaker while those experienced in elderly care will be preferred for taking care of elders in the family.
4. The date and period of work needs to be set
Most helpers are assigned tasks that need to be completed during the day and occupy a specific amount of time. Domestic helpers need to be sure of their assigned tasks and in no way, those additional tasks be loaded without prior intimation. The date of commencement of services and the period of activity and responsibility should be outlined in the agreement between the employer and the helper in brief.
5. Orientation period should be set
Not many families allow helpers to orient themselves to the new setting and the family habits. It is important that all domestic helpers need to be oriented to the new duties and the schedule of each family member so that all tasks are dispensed with no hassle to the routine. By giving a month's time for orientation, domestic helpers can plan their tasks accordingly and even get their duties fulfilled responsibly.
I have covered basic points that domestic helpers need to take care of while opting for work in Hong Kong. In the next part, I will touch upon five more things to look for while opting for an employer.